Archaeology, geology & metallurgy of Kannada word ukku (wootz), crucible steel, an advanced material invented in Sarasvati Civilization https://tinyurl.com/y6v6pr4w

Though archaeologically attested crucible steel is dated to ca. 5th cent. BCE in India, there are indications that the processes of crucible steel making date back to ca. 1100 BCE in the neolithic site of Hallur, Karnataka. It is possible that the iron artifacts of this site are comparable to the crucible steel processes evidenced in the iron artifacts found (dated ca. 1st cent. CE) from Junnar caves dated to ca. 3rd cent. BCE.
The Kannada word ukku is also cognate with and a phonetic variant of utsa'well, fountain, source'. The crucible steel realized as ukku is the magnetite mineral source alloyed with carbon, for an armourer to forge swords, knives. The semantics of utsa relates to 'spring, coming from a spring'. The crucible steel cake making process compared to a spring coming out of the magnetite ore PLUS carbon elements subjected to heat in a furnace: 

útsa

 m. ʻ spring of water ' RV. 2. 

utsíya -- 

(utsyà -- ) ʻ coming from a spring (of water) ' AV. [√ud2

].

1. Wg. 

ūċ

 ʻ spring ', Kt. 

unċo

, Dm. 

ūċ

, Gaw. 

ū̃ċ

, 

wū̃ċ

, Kal. rumb. Kho. 

uċ

, Bshk. 

ūċ

, 

ūč

, Phal. 

ūċ

, Sh. gil. 

ũċ

 m., koh. gur. 

uċ

 m., A. 

uh

 (< *

ūcha

), Or. 

ucha.

2. Paš. lauṛ. 

uč

 f., ar. 

ūič

, 

ūiċ.

(CDIAL 1869). Thus, the word which is pronounced as 'wootz' is relatable to both ukku in Kannada and utsa 'spring' (
R̥
gveda). A synonym of the word utsa in Kannada is o
ṟ
ate with the semantics: 'a stream produced by oozing'. Thus, crucible steel, ukku is explained as a stream of carbon oozing into magnetite ore to realize or bloom out a plastic metal alloy -- crucible steel.
Ganesha shrine situated in Cave 7 of Junnar caves (Pune, Maharashtra) is dated to the 1st century CE. Surroundings of Junnar are very rich with ancient cave temples. In total there are more than 220 individual rock-cut caves located in four hills around Junnar. The most famous among the caves is the 

Lenyadri 

complex. Iron objects at this complex are found to be made of high carbon steel, dated to ca. 1st cent. CE.
Lenyadri caves in the mountainside
"
Junnar has the largest number of excavations numbering over 200 independent excavations and spread over the four hills. All the excavations belong to the Hinayana phase and are datable from mid 3rd century B.C. to late 3rd century CE. The presence of largest number of rock cut excavations, a large number of inscriptions enabling a paleographical study makes Junnar a prominent site for the study of rock cut architecture.
" 
http://asi.nic.in/asi_monu_tktd_maha_junnarcaves.asp
Iron objects from a site (2nd BC–AD 2nd) at Junnar, India, examined.
Objects were made of high carbon steel; some with trace amounts of Si, Mn and S.
Microstructure is uniform and free of non-metallic inclusions.
Radiocarbon dating places the date between 350 BC and AD 136.
Crucible steel technology established in India at an earlier date than supposed






Wootz Steel: Making Damascus Steel Blades
2,400 Year Old Crucible Process of Iron Mongering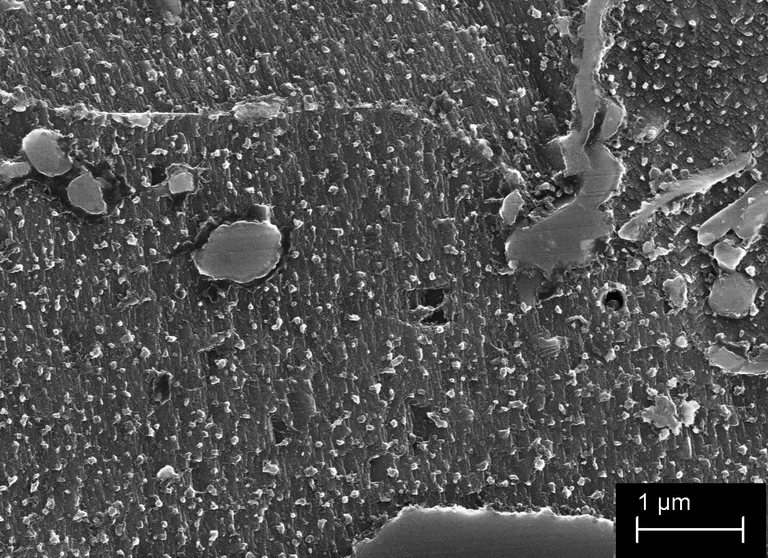 Electron micrograph of a deeply etched wootz sample illustrating the fine precipitation probably formed by self-tempering of martensite during the final cooling. Published in Durand-Charre et al. 2010. Courtesy Institut National Polytechnique
[quote]...Crucible steel, invented in the Indian subcontinent at least as early as 400 BCE, contains an intermediate level of carbon, 1–2 percent, and compared to the other products is an ultra-high carbon steel with high ductility for forging and high impact strength and reduced brittleness suitable for making blades.
Age of Wootz Steel
Iron making was part of Indian culture as early as 1100 BCE, at sites such as Hallur. The earliest evidence for the wootz type processing of iron includes the fragments of crucibles and metal particles identified at the 5th century BCE sites of Kodumanal and Mel-siruvalur, both in Tamil Nadu.
Molecular investigation of an iron cake and tools from Junnar in Deccan province and dating to the Satavahana dynasty (350 BCE–136 CE) is clear evidence that crucible technology was widespread in India by this period.
The crucible steel artifacts found at Junnar were not swords or blades, but rather awls and chisels, tools for everyday working purposes such as rock carving and bead making. Such tools need to be strong without becoming brittle. The crucible steel process promotes those characteristics by attaining long-range structural homogeneity and inclusion-free conditions.
Some evidence suggests that the wootz process is older still. Sixteen hundred kilometers north of Junnar, at Taxila in present-day Pakistan, archaeologist John Marshall found three sword blades with 1.2–1.7 percent carbon steel, dated somewhere between the 5th century BCE and 1st century CE. An iron ring from a context at Kadebakele in Karnataka dated between 800–440 BCE has a composition close to .8 percent carbon and it may very well be crucible steel.[unquote]