The Ramayana in Southeast Asia: (4) Indonesia and Malaysia
The final installment of our survey of the Ramayana epic in Southeast looks at its dissemination in the island world. That the Ramayana was already well known in Java by the end of the ninth century is evident from the magnificent series of reliefs carved into the walls of the temples of Prambanan in central Java around 900 AD.  However, the the first literary version in Old Javanese, the Ramayana Kakawin, appears to date from a century later. It is based not directly on Valmiki'sRamayana but on a later Indian poetical version, the so-called Bhattikavya, a Sanskrit poem written by Bhatti (6/7th century), which both tells the story and illustrates the rules of Sanskrit grammar.  The first five cantos are a fairly exact translation, while the remainder is a much freer version.



The abduction of Sita by Ravana, depicted in stone reliefs at Prambanan temple, central Java, ca. 900.  Photograph by W.G.N. van der Sleen, 1929. Tropenmuseum. 



With the spread of Islam across Java from the fifteenth century onwards, the strongly Indianised Old Javanese culture and traditions retreated eastwards to the island of Bali, which today remains the only majority Hindu region outside India.  Nearly all Old Javanese literary compositions orkakawin survived only in Bali, although their stories continued to be known in Java through the shadow-puppet tradition. The late 18th-century renaissance of literature at the central Javanese courts of Surakarta and Yogyakarta saw the rewriting of the Ramayana Kakawin in modern Javanese.  In Bali, the story of Rama still plays a central part in the religious and cultural life of the island, and in the twentieth century became a popular subject for illustrated palm-leaf manuscripts.



Serat Rama Keling, a modern Javanese version of the Ramayana, illuminated manuscript dated 1814.  British Library,  Add.12284, ff.1v-2r 


Two scenes from a Balinese palm leaf manuscript of the Ramayana, written and illustrated by Ida Bagus Adnyana of Geriya Gunung Sari, Pliatan, Bali, c. 1975. (Top) Sita sees the golden deer and urges Rama to catch it; (bottom) Ravana in the guise of an old hermit lures Sita out of the safety of her magic circle. British Library, Or.14022 


The tradition of shadow-puppet theatre seems to have been in existence in Java for at least a thousand years, and the stories which are used in the wayang kulit shadow puppet theatre are taken from the Indian epics of the Ramayana and Mahabharata. While the characters and the plots remain basically Indian, the way the stories have been developed over the past 1000 years in the oral dramatic tradition reflects Javanese culture rather than Indian. The iconography of the shadow puppet theatre – with heads in profile, angular shoulders, slim torsos and pivoted limbs – has strongly influenced Javanese manuscript illustration.



Hanuman (left) and Hanuman Tugangga, one of Hanuman's sons by the Fish Princess (right). From an album of Javanese wayang characters, Java, 19th century. British Library, Or.9333, ff 8v-9r 


In the Malay Muslim courts of the archipelago, literary traditions now transmitted using Arabic script continued to reflect deep-seated Hindu-Buddhist roots.  The Malay version of the Ramayana,Hikayat Seri Rama, is believed to have been committed to writing between the 13th and 15th centuries.  One of the oldest Malay manuscripts in this country – and probably the oldest known illuminated Malay manuscript – is a copy of the Hikayat Seri Rama now held in the Bodleian Library, Oxford, which was in the possession of Archbishop Laud in 1635.  The Malay version originated not from the classical Ramayana of Valmiki, but from popular oral versions widely spread over southern India.

As attested to in media ranging from the great 7th-century Ramayana stone pedestal in the Cham temple at Tra Kieu in Vietnam, to 20th-century performances of the Ceritera Seri Rama in thewayang Siam shadow puppet theatre of Kelantan and 21st-century Indonesian comics, theRamayana has retained its position as a literary classic in Southeast Asia through the centuries.

Further reading

On the Ramayana in Javanese and Old Javanese:
P.J. Zoetmulder, Kalangwan: a survey of Old Javanese literature.  The Hague: Martinus Nijhoff, 1974; pp. 217-233.
Theodore G. Th. Pigeaud, Literature of Java.  Catalogue raisonné of Javanese manuscripts in the Library of the University of Leiden and other public collections in the Netherlands.  The Hague: Martinus Nijhoff, 1968. 4 vols.

On the Ramayana in Malay:
V.I. Braginsky, The heritage of traditional Malay literature: a historical survey of genres, writings and literary views.  Leiden: KITLV, 2004; pp. 66-71.
Achadiati Ikram, Hikayat Sri Rama: suntingan naskah disertai telaah amanat dan struktur.  Jakarta: Penerbit Universitas Indonesia, 1980.

Annabel Teh Gallop, Lead Curator, Southeast Asia
Posted by Annabel Gallop at 11:58 PM
05 MAY 2014
The Ramayana in Southeast Asia: (3) Burma
The oral tradition of the Ramayana story in Burma is believed to date as far back as the reign of King Anawrahta (1044-77), the founder of the first Burmese empire at Pagan. Documented in Ava by the end of the 13th century, the Rama story – known as Rama Zatdaw in Burmese – continued to be transmitted orally from generation to generation up till the 16th century.  In the 18th century, the Ramayana had come to be regarded as a noble saga even among Buddhist monks. The story of Rama, based on the oral traditions of Old Pagan, may have been committed to writing between the 16th and the 18th centuries, in verse and prose as well as in dramatic form, but the first known written Burmese version of the Ramayana is Rama Thagyin (Songs from the Ramayana), compiled by U Aung Phyo in 1775.



Ravana (called Dathagiri in the Burmese tradition), the ten-headed demon king of Lanka (Thiho), sends Gambi in the form of a shwethamin (golden deer) to Sita (Thida) (top right). Sita persuades Rama to go and catch the golden deer for her (left), and so he leaves Sita under the protection of his brother Lakshmana (Letkhana), and goes after the golden deer (bottom right). British Library Or.14178, f.8 



The popularity of the Ramayana in Burma reached its zenith in the first half of the 19th century, when the story of Rama was depicted in a continuous series of 347 stone relief sculptures at the pagoda of Maha Loka Marazein of Thakhuttanai built in 1849 during the reign of King Bagan (1846-1853), of the Konbaung Dynasty.



When Sita and Lakshmana hear Rama's voice calling them in distress, Lakshmana makes a three-fold magic circle around their shelter to ward off evil, and warns Sita not to venture out of the circle (left). As soon as Lakshmana goes to look for Rama, Ravana changes himself into an old hermit and came to Sita and begs for alms of fruits. Sita forgets her brother-in-law's warning and steps out of the magic circle to give Ravana food and water, believing him to be a real hermit (top right). British Library, Or.14178, f.9 

Thakin Min Mi, the Chief Queen of Singu Min 1776-1781, was a poet and writer who encouraged the performance of the Ramayana. The Rama play was performed on the stage in full splendour in the royal palace beginning with the reign of King Bodawpaya (1782-1819). During the reign of Tharrawaddy Min (1837-1846) and his son Pagan Min (1847-1853) the Rama Zatdaw regained its popularity and became established as part of traditional court entertainment. In the 19th century stage performances and marionette performances of the drama of the Ramayana were presented in the palace by royal troupes of professional artists. During the reign of Mindon (1853-1878), theRama Zatdaw was rarely performed in its entirety, with favourite episodes only usually being presented to please the court.

The king's minister Myawady Mingyi U Sa converted the Ramayana Jataka into a typical Burmese classical drama, and he also composed theme music and songs for its performance. Ever since then, Ramayana performances have been very popular in Burmese culture, and Yama zat pwe(dramatic performances of the Rama story) marionette stage shows are often held. Scenes from the Ramayana can also be found as motifs or design elements in Burmese lacquerware and wood carvings.  By the late 19th century, the Ramayana story was being printed in Burmese: an early example in the British Library is Pontaw Rama (Part 1) by Saya Ku, published in 1880 (14302.e.3/5).



Ravana returns to his own form of a horrible giant with ten fearful heads and twenty great arms and begs Sita to come with him to his kingdom. When she refuses, Ravana summons his magic chariot and sweeps Sita up and away, into the sky and over the forests (top). When Rama and Lakshmana finally find their way home Sita is gone (bottom). British Library, Or.14178, f.10 



The images shown here are from a Burmese folding book manuscript or parabaik (Or. 14178) dating from around 1870, which has 16 pages with painted scenes of the Ramayana story with brief captions in Burmese. The paper covers are painted in red, yellow and green with floral borders and prancing lions. One cover has an inscription in black ink in Burmese, giving the title, Rama Zat, and a brief identification of the contents.  The manuscript has been fully digitised and can be readhere.

Further reading
U Thein Han, The Ramayana in Burma. Rangoon: Burma Historical Commission, 1971.

San San May, Curator for Burmese
Posted by Annabel Gallop at 1:12 AM
28 APRIL 2014
The Ramayana in Southeast Asia: (2) Thailand and Laos
Continuing our series of posts on the Ramayana in Southeast Asia, today we look at Thailand and Laos. The Thai version of the epic is known as the Ramakien. The Rama story is thought to have been known to the Thais since at least the 13th century. It was adopted from older Khmer sources, hence the similarity to the Khmer title Reamker. Various new versions of the story have been composed, often by royal authors, since the 16th and 17th centuries. However, large numbers of Thai manuscripts were lost with the destruction of Ayutthya in 1767, and the Ramakien known today was compiled only between 1785 and 1807 under the supervision of King Rama I (1785-1809).

The famous reliefs depicting about 150 scenes from the Ramakien at Wat Phra Chetuphon (Wat Pho) in Bangkok date back to the early 19th century. Manuscript and mural paintings showing scenes from the Ramakien are particularly famous for their illustrations of the monkey armies. Best known are the mural paintings at the royal temple Wat Phra Kaeo in Bangkok. In King Rama I's version of the Ramakien all names, places, traditions, and flora and fauna were adapted to a Thai context. In this form, the Rama story has become an epic of national character in Thailand, and it is very popular not only as a literary work, but also as a mask dance (khon) and even TV drama. It has been re-published many times in the form of children's and juvenile literature, and characters from the Ramayana have featured on series of postal stamps and trading cards. The title of Rama constantly re-occurs in the royal genealogies of Thailand.



Hanuman facing Ravana asleep in his palace. This drawing is from a 19th century album of ink drawings by an anonymous Thai artist of scenes from the Ramakien, with some text captions in Khom script (a variant of the Cambodian Khmer script used in Thailand). Hanuman can be seen with his sword, teasing Ravana who is fast asleep in his palace after having abducted Sita. The palace resembles 19th century architecture in Bangkok. British Library, Or.14859, pp. 58-59 


Phralak – the Thai and Lao name of Lakshmana, Rama's brother – served Rama and Sita reverently and played an important role in the war with Ravana. In the Thai and Lao traditions, he is a symbol of brotherly love, loyalty and commitment. He gave his life in order to protect Rama's integrity and Ayodhya from an evil curse. This illustration of Phralak is from a folding-book with Thai character drawings including figures from the Ramakien, central Thailand, 19th century. British Library, Or.14229, f. 29 


The Lao version of the Ramayana is known as Phra Lak Phra Ram (or Pha Lak Pha Lam since in modern Lao R is often replaced by L), the title referring to both the brothers Lakshmana and Rama. Sometimes it is also called Phra Ram sadok (Rama Jataka) as it is widely believed that Rama was a former incarnation of a Buddha-to-be. The Rama story featured in many mural paintings and wood relief carvings on temple doors and windows. It was also one of the favourite themes in the repertoire of the Lao Royal Ballet until 1975, and this tradition has been revived since 2002 by the Royal Ballet Theatre of Luang Prabang.



Introductory scene to thank and honour the Hindu gods during a Phra Lak Phra Ram performance by the Royal Ballet Theatre of Luang Prabang. Photo by Jana Igunma, 2002.

Numerous palm-leaf manuscripts from all regions of Laos containing shorter versions of the Lao Ramayana, Lam Pha Lam, show that the story was very popular all over the country in urban centres as much as in rural areas. These versions were created in order to be sung by a Mor Lam, a traditional expert singer who can melodically recite lengthy poems and epic literature while being accompanied by a Khaen (bamboo mouth organ).

In both Thai and Lao traditions, Hanuman was part of a favourite Yantra design used by soldiers and martial arts specialists. The leader of the monkey armies represents strength, stamina, agility, intelligence and devotion. Hanuman Yantras would either be drawn on protective shirts, headbands, battle standards of entire armies, or, most efficiently and durably, tattooed on a fighter's body.



Hanuman as part of a Yantra design for tattooing or to be drawn on protective clothes and battle flags. From a Yantra manual written in gamboge ink on blackened mulberry paper, central Thailand, 19th century.  British Library, Or.15596, f. 9 



Further reading

Angkhan Kanlayanaphong, Khon, Thai masked dance Sala Chalermkrung. Bangkok, 2006. (LP.31.a.679)

John Cadet, The Ramakien. The Thai epic illustrated with the bas-reliefs of Wat Phra Jetubon,Bangkok. Tokyo, Palo Alto, 1971. (Siam.742)

Sachchidanand Sahai, The Rama Jataka in Laos : a study in the Phra Lak Phra Lam. Delhi, 1996. (YD.2004.a.6415)

The Ramakian (Ramayana) mural paintings along the galleries of the temple of the Emerald Buddha. Bangkok, 1999. (SEA.2002.c.3)

Jana Igunma, Ginsburg Curator for Thai, Lao and Cambodian
Posted by Annabel Gallop at 3:53 AM
21 APRIL 2014
The Ramayana in Southeast Asia: (1) Cambodia
The recent digitisation of the Mewar Ramayana has enabled the 'virtual' reunification of this 17th-century masterpiece, bringing together paintings from the manuscript held across continents in different locations.  Originally composed in India in Sanskrit over two and half thousand years ago by Valmiki, the Ramayana is also one of the most popular masterworks throughout Southeast Asia.  This is reflected not only in the literary traditions, but also in the performing and fine arts, as well as in architecture and modern design.  The epic tells the story of Rama, his brother Lakshmana and Rama's wife Sita, who was kidnapped by the demon king Ravana. The main part of the epic is about the fight between Ravana and Rama, who wants to get his wife back. In this battle, Rama is supported by his brother and a monkey chief, Hanuman, with his armies.

Knowledge of the Ramayana in Southeast Asia can be traced back to the 5th century in stone inscriptions from Funan, the first Hindu kingdom in mainland Southeast Asia. An outstanding series of reliefs of the Battle of Lanka from the 12th century still exists at Angkor Wat in Cambodia, andRamayana sculptures from the same period can be found at Pagan in Myanmar. Thailand's old capital Ayutthya founded in 1347 is said to have been modelled on Ayodhya, Rama's birthplace and setting of the Ramayana.  New versions of the epic were written in poetry and prose and as dramas in Burmese, Thai, Khmer, Lao, Malay, Javanese and Balinese, and the story continues to be told in dance-dramas, music, puppet and shadow theatre throughout Southeast Asia. Most of these versions change parts of the story significantly to reflect the different natural environments, customs and cultures.

When mainland Southeast Asian societies embraced Theravada Buddhism, Rama began to be regarded as a Bodhisatta, or Buddha-to-be, in a former life. In this context, the early episodes of the story were emphasized, symbolising Rama's Buddhist virtues of filial obedience and willing renunciation. Throughout the region, Hanuman enjoys a greatly expanded role; he becomes the king of the monkeys and the most popular character in the story, and is a reflection of all the freer aspects of life.  In a series of posts we will be exploring how the Ramayana epic has been rewritten and reimagined in the different parts of Southeast Asia, starting with the Khmer version, theReamker.




Royal Reamker performance, accompanied by the royal orchestra, at the ancient site of Ta Prohm, one of the temples of Angkor.  Postcard from around 1915 published in Paris by the Anciens Etablissement Gillot, from a collector's album of postcards from Laos, Cambodia, Burma and Siam.  British Library, ORB. 30/6309, p. [16]
The Ramayana very early reached the ancient Hindu kingdoms (Funan, Chenla, Champa) in the territory of present-day Cambodia, southern Vietnam and eastern Thailand through contact with the south Indian kingdoms, but the oldest extant literary version, the Reamker in the Khmer language, appears to date from the 16th century.  It preserves closer links to Valmiki's original than do the other Southeast Asian versions. The Rama story became a favourite theme for frescoes on temple walls and was the exclusive subject of the traditional Cambodian shadow play. The popular masked dance drama, lkhon khol, was based on certain episodes from the Ramayana, and with Rama being regarded a former incarnation for the Buddha himself the story forms part of the repertoire of theRoyal Ballet  to the present day.



Dancer of the Royal Ballet in the costume of Hanuman.  Postcard from around 1915 issued by the Comité Cambodgien de la Société des Amis d'Angkor, from a collector's album of postcards from Laos, Cambodia, Burma and Siam.  British Library, ORB. 30/6309, p. [30]

The literary text Reamker has the form of a dramatic recitative that was intended to accompany a mimed dance performance. Live recitations of parts of the Reamker by one of the most famous Cambodian storytellers of the 20th century, Ta Krut, had been recorded in the 1960s and are available online from the Bophana Audiovisual Resource Center.

Further reading:

Reamker (Ramakerti), the Cambodian version of the Ramayana. Translated by Judith Jacob with the assistance of Kuoch Haksrea. London: Royal Asiatic Society, 1986 (ORW.1989.a.1223)

J. J. Boeles, The Ramayana relief from the Khmer sanctuary at Pimai in Northeast Thailand.
 
Sachchidanand Sahai (ed.), The Ramayana in South East Asia. Gaya 1981 (W 6784)


Jana Igunma, Curator for Thai, Lao and Cambodian
Posted by Annabel Gallop at 1:40 AM
01 APRIL 2014
Curator's perspective: accessing the Mewar Ramayana
The digital version of the complete Valmiki Ramayana prepared for  Rana Jagat Singh of Mewar in 1649-53 was launched on 21 March at the CSMVS, Mumbai, making freely available to the world one of the greatest achievements of Indian art.  For the complete digital version of the manuscript together with descriptions of the paintings and essays on its various aspects, see
www.bl.uk/ramayana
.  My own involvement with the manuscript goes back to 1971 when as a young Sanskritist straight from Oxford I first joined the British Museum, before the collections were transferred to the British Library in 1973.  I spent a lot of time exploring the oriental select manuscripts lobby, pulling the manuscripts off the shelf one by one for a brief examination.  The bound manuscripts were kept in so far as possible in strict numerical sequence in the main runs of Additional and Oriental manuscripts, so that Arabic, Persian, Hebrew or Sanskrit manuscripts could be found side by side, encouraging a serendipitous tendency to explore other cultures.  I was vaguely aware of the great Mughal manuscripts in the collections, the subject of British Library exhibitions in 1982 and 2012, but was there I wondered anything comparable from the Hindu world?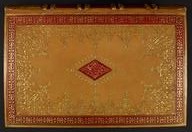 Covers and doublure of a volume of the Ramayana as bound in the British Museum bindery in 1844.  British Library, Add.15295. 

I soon found three massive bound volumes which announced themselves on the spines as five volumes of the Ramayana, books 1, 2, 4, 6 and 7.  On hauling them off the shelf and opening them I found them crammed with paintings.  Each of the volumes had had all its folios, the unillustrated ones as well as the full page paintings, let into heavy guard papers which were then bound up in these elaborate bindings.  The folios being in landscape format, the volumes had to be turned on their sides to be read.  On further investigation, one of the volumes, the Bala Kanda or first book, with over 200 paintings, turned out to have been written in 1712 in Udaipur under Maharana Sangram Singh (Add.15295), but the other four books containing 286 full page paintings were prepared in Udaipur for Rana Jagat Singh between 1649 and 1652, as well as in the first year of his successor Rana Raj Singh in 1653 (Add.152396-7).  They had, I found, never been exhibited, since the volumes were too large to fit into the department's then exhibition cases; they had never been lent to be exhibited elsewhere, not even to the great exhibition of Indian art at Burlington House in 1947, since the British Museum did not then lend at all; and I could find only one brief reference to them in the art historical literature, in Douglas Barrett and Basil Gray's Indian Painting of 1963.  They were of course mentioned in Cecil Bendall's Catalogue of Sanskrit Manuscripts in the British Museum (London, 1902), but he was concerned about the text and not the pictures:  back then in 1902 no one in the west knew anything about Indian painting, while A.K. Coomaraswamy had yet to publish his book on Rajput painting.  In 1971 when I told those of my colleagues who were interested in Persian and Indian painting about these great volumes, my excitement was greeted with some indifference: they knew of their existence of course, but Rajput painting and manuscripts did not conform to Mughal standards of painting, let alone Persian.  The volumes turned out to be illustrated in three different styles of contemporary Mewar painting, involving the artists Sahib Din and Manohar and their studios and an unknown master working in a mixed Mewar-Deccani style. 
Hanuman espies Rama and Laksmana as they approach Lake Pampa.  Ramayana, Kiskindha Kanda.  Mewar-Deccani style, Udaipur, 1653.  British Library, Add.15297(1), f.2r. 

Since that to me momentous discovery in 1971, I have been occupied with trying to publish these volumes and to place them within their artistic and cultural contexts.  I had found only four volumes of Jagat Singh's Ramayana – where were the other three?  I soon found some of the original Bala Kanda of 1649 ascribed to the artist Manohar in the then Prince of Wales Museum in Bombay, and most of the rest of the paintings in the book in a private collection in that city.  But when Dr Moti Chanda published some of its paintings in 1955, he was unaware of the four London volumes.  It emerged that one volume, book 3, the Aranya Kanda or Forest book, was still in Udaipur.  It had been transferred along with the rest of the royal Mewar library to the Udaipur branch of the Rajasthan Oriental Research Institute, and was subsequently moved to that institute's headquarters in Jodhpur.  In 1982 the four London volumes formed some of the highlights of my exhibition The Art of the Book in India in the British Library.  
Hanuman is brought bound before Ravana and his tail set on fire.  Ramayana, Sundara Kanda.  Mewar-Deccani style, Udaipur, c. 1650.  British Library, IO San 3621, f.9r. 

While I was preparing that exhibition Mildred Archer and Toby Falk, who had been working on a catalogue of the Indian miniatures in the then separate India Office Library, brought to my attention a volume of 18 paintings of a Sundara Kanda that had been acquired in 1912.  This it seems was what remained of the final volume to be unearthed and I included it in my exhibition.  I also brought to London for the exhibition folios from the two volumes still in India, thereby uniting the entire manuscript for the first time since 1820.  Since then I have published various articles on different aspects of them and other scholars including Vidya Dehejia and Andrew Topsfield have also worked on them, but the task is immense, since we are concerned here with over 400 paintings as well as a most interesting text, which is earlier than most of the manuscripts used for the critical edition of the Ramayana prepared in Baroda in 1960-75.
Maharana Bhim Singh of Mewar (reg. 1778-1828) out hunting.  Mewar, 1810-20.  British Library, Add.Or.4662. 

But how did these volumes get to London in the first place?  
Maharana Bhim Singh of Mewar
 was the typical Rajput ruler of the time, more interested in hunting and grand festivals than in literary pursuits, but he did revive the royal painting studio.  He was on very friendly terms with Captain James Tod, the future historian of the Rajputs, who was appointed in 1818 as the East India Company's Agent to the western Rajput states.   On Tod's final departure from Udaipur in 1820 the Maharana presented to him four volumes of Jagat Singh's Ramayana as well as the Bala Kanda of 1712 prepared under Sangram Singh.   Tod on his return to London in 1823 presented the five volumes to the Duke of Sussex, one of the younger sons of King George III, who had accumulated a vast and important library, and it was at the sale of the Duke's library in 1844 that the five volumes were purchased for the British Museum.  They were still in bundles in their loose-leaf traditional format and it was then that they were bound up in their handsome bindings, the enormous Bala Kanda in one volume (Add.15295) and the remaining four books in two volumes (Add.15296 and Add.15297).
It emerged over the 40 years since 1971 that the bound volumes in London had kept the paintings in absolutely pristine condition, since up to that time scarcely anyone had looked at them, but as I and other scholars turned their pages in subsequent years it became increasingly obvious that the paintings were suffering, since the folios housed in their rigid bindings could not be turned without the paintings flexing and with that the ensuing risk of the pigments flaking.  One of my first tasks was to organise the splitting of Add.15297 since the two heavily illustrated books within, including Sahib Din's masterpiece the Yuddha Kanda (Book 6), were most at risk. 
Hanuman disturbs the divine inhabitants of the Himalaya when fetching herbs to cure Laksmana who had been wounded by Ravana.  Ramayana, Yuddha Kanda.  By Sahib Din, Udaipur, 1652.  British Library, Add.15297(1), f.150r. 

In Valmiki's hermitage Lava and Kusa recite the story of Rama before Satrughna.  Ramayana, Uttara Kanda.  Style of Manohar, Udaipur, 1653.  British Library, Add.15297(2), f.88r. 

Book 7 the Uttara Kanda was removed and a new binding matching the original was prepared for it, as well as a new spine for the Yuddha Kanda.  In 1995, some 20 folios concerned with Rama's quest for Sita were detached and mounted separately in an exhibition at the British Library, The Mythical Quest, and were later lent to several exhibitions in the UK as well as to the Asian Civilizations Museum, Singapore. 
It seemed to me many years ago that the best way to ensure the safety of the paintings was to dismantle the volumes entirely and mount the paintings separately, but this raised opposition within the Library as the volumes themselves were of great historic interest.  However my view eventually prevailed.  The volumes were dismantled and the paintings individually mounted and a large part of the London volumes were shown in a grand Ramayana exhibition in the British Library in 2008 with my accompanying book published both in London and in India.  From them on it was but a step to conceive of reuniting the whole manuscript digitally, not just the paintings but the text as well, so that scholars could work in particular on the relationship between text and painting, and also so that everyone could have access to one of the greatest monuments of Indian art.
Further Reading:
Chandra, M., 'Paintings from an Illustrated Version of the Ramayana Painted at Udaipur in AD 1649' in Bulletin of the Prince of Wales Museum of Western India Bombay, vol. 5, 1955-57, pp. 33-49
Losty, J.P., The Art of the Book in India, British Library, London, 1982
Losty, J.P., The Ramayana:  Love and Valour in India's Great Epic – the Mewar Ramayana Manuscripts, British Library, London, 2008
Topsfield, A., Court Painting at Udaipur: Art under the Patronage of the Maharanas of Mewar, Artibus Asiae, Zurich, 2002
Thursday, May 19, 2016
Dates of sky views in Ramayana



           

The story of Shri Ram's life was first narrated by Maharishi Valmiki in the 'Ramayan' wherein he has made sequential astronomical references on important dates related to the life of Shri Ram. By entering the precise details of these planetary configurations using the software named 'Planetarium Gold' corresponding exact dates of these events can be known.



           

Date of Birth of Lord Ram - 

In Baal Kand (1/18/8-10) it has been stated that Shri Ram was born on 9th tithi of Chaitra month during day time when the position of different planets vis-à-vis zodiac constellations and nakshatras was as under:

1. Sun in Aries        
2. Venus in Pisces
3. Mars in Capricorn  
4. Saturn in Libra
5. Jupiter rising in Cancer                    
6. Moon near star Punar vasu (Pollux) in Gemini Constellation

Amazing! See the sky view below shows exactly similar location of planets, stars and zodiac constellations on the 10th of January in the year 5114 BC if viewed from latitude/longitude of Ayodhya (25°N 81°E). By making use of software to convert solar calendar into lunar calendar, it was found that this date also happened to be the 9th day of Shukla Paksha in 'Chaitra' month and the time was around 12 to 1 noontime. This is exactly the time and date when Ramnavmi is celebrated all over India till date.

Date of Exile of Shri Ram
In Valmiki Ramayan it is mentioned in Ayodhya Kaand (2/4/18) that Dashratha wanted to make Shri Ram the king because Sun, Mars and Rahu had surrounded his nakshatra and normally under such planetary positions the king dies or becomes a victim of conspiracies. Zodiac sign of king Dashratha was Pisces and his nakshatra was Rewati. This planetary position was prevailing on the 5th of January 5089 BC and it was on this day that Shri Ram had to leave Ayodhya for 14 years. Thus he was 25 years old at that time (5114-5089) and there are several shlokas in Valmiki Ramayan which indicate that Shri Ram was 25 years old when he left Ayodhya for his 14 years of exile.
Solar Eclipse during War with Khar-Dushan
Ramayan refers to the solar eclipse at the time of war with Khar-Dushan in later half of 13th year of Shri Ram's stay in the forests. Valmiki has also mentioned that it was Amavasya day and planet Mars was in the middle. When this data was entered, the sky view generated by Planetarium software indicated that there was a solar eclipse on 7th October, 5077 BC which could be seen from Panchvati (20° N; 73° E) On that date planetary configuration was the same as has been described by Valmiki i.e. Mars was in the middle; on one side were Mercury, Venus and Jupiter and on the other side were Sun, Moon and Saturn. (Fig. 2).
Other Eclipses mentioned in Ramayan
In Kishkindha kaand there is a reference to solar eclipse (4/15/3) on the day Bali was killed. Software shows a solar eclipse on 3rd April 5076 BC which was the only solar eclipse during the entire year.
In Sunder Kaand there is a reference to lunar eclipse when Hanuman spots Sita in Ashok Vatika (5/19/14, 5/29/7, 5/35/87). Sky view reveals lunar eclipse starting from 4.15 pm on 12th September 5076 BC from Colombo (7°N; 80°E).
Thus the planetary references in Valmiki Ramayan correspond to actual sky seen from the given places around 5100 BC in the same sequence as narrated. The way in which archaeological, paleobotanical, genetic, oceanographic, geological, ecological and remote sensing research reports corroborate the astronomical dates is amazing! These details will also be shared through our upcoming website, bhootkaal.com.
Lessons from the life of Lord Ram
The story of Shri Ram, when appreciated in its true perspective, would emerge as the biggest unifying factor for India. He remains unparalleled as an ideal son, an ideal brother, an ideal warrior and an ideal king; that is why he is described as Maryada Purushottam Ram!
He was a nationalist par excellence who left his kingdom to help the small kings located all over India to save their kingdoms from being usurped by wicked King Ravana of Sri Lanka and his relatives and devils like Khar, Dushan, Trishira and Maarich representing him in India.
Shri Ram moved from place to place to spread the message of unity by showing very high level of respect for the people from backward tribes and those considered untouchable. He embraced Guh Nishad who belonged to Kol tribe, considered to be a lower caste; he gave a strong message against untouchability by eating with great affection jootha berries of Bhilni (Shabri) of Bhil tribe. He sent his wife and children to be brought up and educated by Maharishi Valmiki who is stated to be Shudra but was a great scholar in the ancient world.
Shri Ram tried and succeeded in establishing victory of good over evil. He helped rishis and munis in living a life of honor. He got the kingdoms of small noble kings restored to them and acted as the biggest unifying factor. He set the finest example of a welfare state, in which the supreme duty of the king is working for the well being and happiness of masses.
We all need to strive to establish Ram Rajya in India for rich and poor of all communities and castes!
Ramsetu is a natural chain of islands, hills, shoals, submerged in Palk Strait from Dhanushkoti to Talaimannar, in which certain gaps have been filled up, indicating the contribution of human hand. One of the two surviving fillings can be seen in the picture revealing well defined boundaries and stone fillings. During visit to Rameshwaram, I got an extra-ordinary opportunity to observe the depth at which a part of Ramsethu was found submerged under the sea which measured 9.5 feet (about 3 meters) on the fisherman's oar.

Fig. 8: Boundaries looking like ropes & the fillings in between

Ram's Bridge – references in Ramayan
In Yuddh Kand, sarg 22 (shlokas 45-73) Valmiki has given graphic details of Lord Ram carrying out research and exploration to identify a suitable location for construction of the bridge. After identifying the location, he requested Sugriva to search for an expert Shilpakar who could construct such a bridge. Sugriva recommended the name of Nal, a famous shilpakar, who had the expertise similar to that of Vishwakarma in constructing the bridge. Accordingly Nal was called; he concurred that bridge could indeed to constructed at the location identified by Shri Ram. The construction of this bridge was completed under the supervision of Nal in five days by filling up of the gaps in the existing natural chain of land route consisting of islands, rocks and shoals (6/22/68-73).
The armymen of Lord Ram utilized various tools and implements for uprooting trees like saal, taar, coconut, mango, ashoka, arjun, bakul and bilva etc (6/22/47). With the help of various yantras they transported these stones, trees, creepers, and boulders to the seashore (2/22/60). Shilpakar Nal directed the armymen to stand with long ropes on either side and got the bridge constructed in five days by binding such transported materials together. Even the use of measuring tools has been described (6/22/65).
Rama's Bridge - its satellite image and oceanographic evidences:
The bridge is composed of a series of islands, rocks, and shoals and it is stated to be 30 kilometers long. It is found exactly at the location narrated in Valmiki Ramayan. See NASA picture of this Bridge given above.
Sea level curve prepared by the National Institute of Oceanography, Goa, corroborates the fact that sea level was about three meters lower around 5100 BC; thus corroborating the fact that in 5100 BC Ramsethu was above the sea level and could be used as a land route between Rameshwaram and Sri Lanka. Thus even fluctuations in sea levels corroborate references to Ramsethu in Ramayan.
Some very Interesting facts about Ramsethu
All attempts to create shipping route by completing the Sethu Samudram project have so far failed. Shri Subramnian Swamy summarized the report dated January 23, 2007 published in the Asian Age stating that "the Dredging Corporation of India's (DCI) dredger imported from Holland had broken into two and sunk into the sea when it began work on the Ram Setu. The DCI crane that went to pick up the dredger pieces also broke and sank. The Russian engineer consultant who went to inspect the mishap broke his leg." As a result all efforts made on behalf of the Government so far to destroy remains of Ram Setu have failed and consequently Sethusamudram Shipping Canal could not become a reality.
 

We suggest that why not construct a the bridge as several multi-nationals are offering to construct the bridge under BOT (Build-Operate-Transfer) scheme? Can one imagine the number of people from India who will walk over this reconstructed Ramsethu every year and the kind of profit the builder as well as Indian and Sri Lankan Governments would be able to earn! The relations between the two neighboring countries would drastically improve.
Sunday, March 6, 2016
We all know that Shri Ram belonged to Suryavansh dynasty and the kings of this Vanshavali have been listed sequentially in Valmiki Ramayan and in Puranas. We completed these lists and compared these with the latest genetic studies. These also led to the conclusion that time of Lord Ram are around 7100 years back, who was the 64th eminent Ruler of this dynasty. Raja Sagar was 40th and and Samrat Bhagirath was 44th ruler of this dynasty, therefore their period was around 8000 years back. Look at the Geneology Charts and the genetic studies which corroborate the continuous development of indigenous civilization in India for last more than 10000 years -


Monday, December 14, 2015
Thursday, October 15, 2015
Amazing facts about ancient India
revealed through
Exhibition on Cultural continuity from Rigveda to Robtics 
(From 17th to 23rd September, 2015) – establishes the historicity of Ramayana and Mahabharata eras
Coverage by TV channels of
Coverage of exhibition on other TV channels
Tuesday, June 16, 2015
Genetic study of Ramayana tribes rejects Aryan invasion theory and supports indigenous common ancestry of Indian populations
            An international team of researchers consisting of geneticists, anthropologists and Research Scholars have found that Ramayana, composed around 7,100 years ago, is a chronicle of events and characters recorded by Sage Valmiki and is not a work of fiction. They also found that North Indians & Dravidians share their genetic profile; they have lived in India for more than 12000 years and there is no evidence of any Gene –inflow. 
            Normally it is being taught in schools and colleges in India that Aryans immigrated into Indian Subcontinent from Central Asia around 1500 BC and that the aboriginal Indians who were uncivilised at that time were defeated and pushed towards south & they became Dravidians whereas invading Aryans occupied North India and are settled there till date. This view was based on linguistic guess work but many scientific researches like astronomy, archaeology, paleobotany, and space imagery have been providing evidence that this Aryan Invasion theory is incorrect, having no scientific basis.
            Institute of Scientific Research on Vedas had earlier reported that skyviews of planetary references in Ramayana could be seen sequentially 7100 ago and that several archaeological and paleobotanical evidences had supported these dates for Ramayana era Latest in the series are the genetic studies. A paper published in the internationally reputed journal PLOS ONE has thrown light on this issue by utilizing the data obtained fromValmiki Ramayan and testing this with the genetic studies carried out by using advanced genetic research and tools. The research team comprised of:
1.      Geneticist, Dr Gyaneshwer Chaubey, from Estonian Biocentre, Tartu
2.      Traditional Anthropologist, Prof. V.R. Rao, Anthropology Department, Delhi University
3.      Ramayana Scholar, Mrs. Saroj Bala, Director of the Institute of Scientific Research on Vedas
4.      IITian from Delhi, Mr. Anurag Kadiyan,
            The team extracted detailed information about Indian tribal populations from the oldest epic Valmiki Ramayana and tested their concordance and discordance with the high resolution genetic data. This was an interdisciplinary project between the scientists and scholars from India and from Estonia. It took around three years to complete this research project. 
            To begin with, the team selected three main tribal populations, namely: Kol (e.g. Guh Nishad), Bhil (e.g. Bhilni) and Gond (from Dandakvan area), and extracted references to these tribes from different chapters of Ramayana, along with their geographic locations. Then they, particularly Dr. Gyaneshwar Chaubey, scanned hundreds of thousands of single nucleotide polymorphisms among these three ancient tribes, and also compared the results with their neighboring populations and other world populations.
            The analysis, conducted using various statistical methods/tools, suggested that:
·      These tribes have been living in India for last more than 12000 years and there are no evidences of any gene inflow.
·      The genetic structuring of these ancient tribes is largely similar to their contemporary tribal and caste populations, suggesting genetic continuity of Indian population for more than 10000 years.
·      Further, extent of genetic component sharing among different populations reflected their similarity with other Indian populations establishing that these were primarily founded over indigenous component, having continuity since last over ten thousand years. 
            The team has also concluded that all Indians from North or from South, irrespective of their caste and tribal affiliations, share a common genetic ancestry, which is undoubtedly founded over the indigenous ASI component.
Title: Genetic affinity of the Bhil, Kol and Gond mentioned in epic Ramayana
Wednesday, August 20, 2014
Sky views, generated through Planetarium software, of planetary references in Valmiki Ramayana relate sequentially to the period around 5100 BC i.e. 7000 BP. There is some very interesting corroboration through DNA studies.
Indian history has recorded that Shri Ram s/o Raja Dashrath, belonged to Surya Vansh and he was the 64th ruler of this dynasty. Most of the names and other relevant particulars of previous 63 kings are listed in Vishnu Purana (Chaturth Ansha, Chapter 5), Srimad Bhagwat Purana (Navam Skandha, Chapter 13), Valmiki Ramayan (Baal Kaand, Sarga 70-71).
Manu was the first king, Iksavaku second, Harishchandra was 33rd ruler, whereas Sagar was 40th and Bhagirath was 44th ruler of Suryavansha. There are also names of 62 successors of Lord Ram listed in these ancient books. Thus the dates of Suryavanshi rulers get pushed back by around 2000 years i.e. to 9000 BP. It is obvious that it would have taken at least 2000 years for the civilization to develop practices relating to agriculture and irrigation, trade and industry, navigation and shipping, urban planning and civil administration; leading to formation of large kingdoms and the institution of kingship. It would have taken a few thousand years, after the beginning of the Nutan Yug, for the evolving society to attain the level of intellectual, philosophical, cultural and scientific activity as is evident from the contents of Vedas and Ramayan.
Almost all the major Genome studies carried out for the Holocene (nutan yug) period, including those carried out by Kenneth A. R. Kennedy and Cavalli-Sfroza, have revealed an amazing correlation of the genealogy with the genetic profile of humans settled in Indian Subcontinent since the Holocene (about 11000 years). These have also corroborated the development of civilization revealed through Vedas and Epics. Almost all the Genome studies have concluded that genetic profile of people of the Indian subcontinent has remained the same for last more than 55000 years. For last 11000 years, this genetic profile is of culturally developing people who had started speaking a structured language and were taking cooked food. It has also been concluded that the Dravidians as well as north Indians have common ancestors and both are originals of India, have common genetic profile and had common ancestors.
A very interesting study was recently conducted by Dr. Gyaneshwar Chaubey of Estonian Biocentre. He scanned genepool of three most ancient tribes mentioned in Ramayana, i.e. Kol (e.g. Guh nishad), Bhil (e.g. Bhilni) and Gond, and compared the results with their neighboring populations and other world populations. It was concluded that the genepool of these tribes was primarily founded over indigenous component, having continuity for last over ten thousand years. Is it not a most emphatic rejection of Aryan Invasion theory, and corroboration of astronomical dates of Ramayana references?
Suggested Readings
2. Cavalli-Sforza LL, Feldman MW (2003) The application of molecular genetic approaches to the study of human evolution. Nat Genet 33 Suppl: 266-275.
3. Chaubey G, Metspalu M, Kivisild T, Villems R (2007) Peopling of South Asia: investigating the caste-tribe continuum in India. Bioessays 29: 91-100.(http://hdl.handle.net/10062/15240)
4. Chaubey G The demographic history of India: A perspective based on genetic evidence (http://hdl.handle.net/10062/15240). PhD. Universitatis Tartuensis, Evolutionary Biology;(2010)
5. Kazanas N (1999) The Rigveda and Indo-Europeans. Annals of the Bhandarkar Oriental Research Institute